2018.12.28
Guangzhou-Xinhui Experience Trip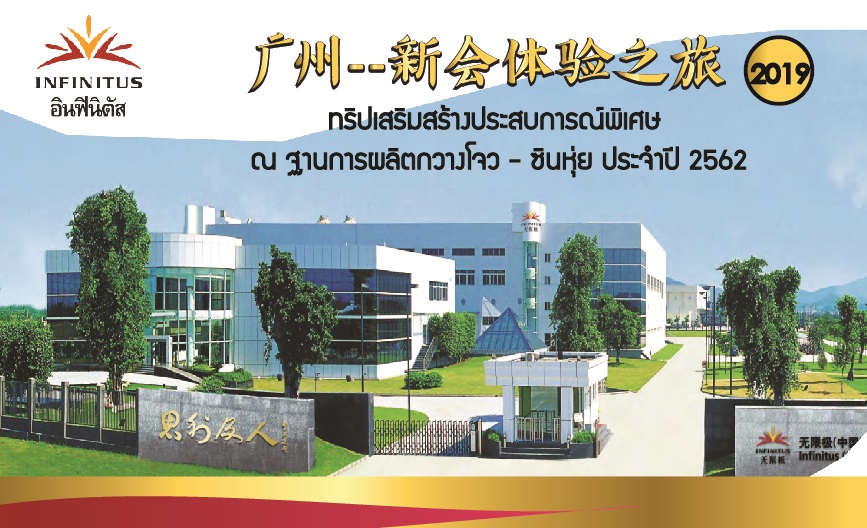 Be Confidence in Infinitus and reliable products!
Experience the Great and World-Class technology of manufacture!
Visit the State-of-Art Guangzhou-Xin Hui production base in 2019.
Qualification period: December 1, 2018 – March 31, 2019
Qualification:
PPV per month

Requirement

PGV per month

Requirement

New Sponsor

Requirement

500 PPV

1. 5,000 PGV in one calendar month (minimum 1 calendar month during qualification period.)

2. Total accumulate 15,000 OV within qualification period.

6 new direct sponsors who enroll with new starter kits package (300PV)
Special condition 1: Infinitus Thailand Distributors (include existing distributor and new enrolled distributor), the qualification is based on the PPV, PGV and OV achieves under Thailand Only.
Special condition 2: Any downline who achieves the qualification the Direct Sponsor Upline will be granted maximum 5,000 OV to be counted toward the trip qualification.
Remark: For new enrolled distributor (300 PPV) during the qualification period will be exempted from qualifying 500 PPV in the first month of qualification period.
Don't miss it!! Be a part of this trip!!